Back in the Before times, when I browsed charity shop bookshelves regularly, I kept spotting SJ Parris novels and thinking for a moment they were CJ Sansom novels. That's probably the intention behind the fonts and general vibe of the covers. Eventually I picked one up and discovered that they seemed to be sixteenth century spy thrillers, rather than the sixteenth century crime of Sansom's excellent Shardlake series, and parked the knowledge for later. I have a history of getting confused by the subtleties of spy tales. However, I couldn't entirely dismiss the series as the central character was Giordano Bruno.
If you've ever delved into the history of physics you'll have come across Giordano Bruno, the mad monk. I talked about him briefly in my dash through celestial mechanics at York Festival of Ideas in 2018 because in among some of his more outlandish theories he suggested things that turned out to be true. Here's what I said about him, in my section on challenging dogma:
Giordano Bruno was burned at the stake in 1600 after 7 years of imprisonment by the Inquisition, though before long most of his worldview replaced that of medieval Christianity. He wasn't an astronomer, his theories were based on neither experiment nor observation, he dealt in philosophy, really, though I've seen him described as "a renegade monk" which conjures up an interesting image. He often comes between Copernicus and Kepler in history of science books, but that's the benefit of hindsight again. He suggested that the earth moves round the sun and that the sun moves; that there's no such thing as a point absolutely at rest; that the stars are at vast and various distances from the solar system and that they are themselves centres of comparable systems; that the universe is infinite and can provide no criterion of fixity, and that our solar system is in no sense the centre of the universe. Which, as you can imagine, kind of annoyed the church who liked the idea that Man was special. Anyway, alongside all this fantastic stuff, way ahead of its time, he also had some strange ideas in the same way as Kepler and his mysticism or Newton and his alchemy. So was Bruno a crank with some lucky guesses or an insightful thinker? And would you have known what to make of him, without several centuries of hindsight?
You can see why I might be interested, then. And why I couldn't resist a book of three Giordano Bruno novellas by SJ Parris on offer for 99p when I was browsing the Kobo store for new reading material at the start of January.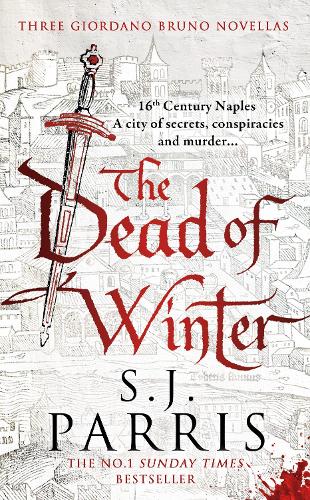 The first story, The Secret Dead, is set in 1566 when Bruno is 18 and has recently taken his vows, and contains both a murder mystery and the dangers of exploring science when the Inquisition are on the prowl. It was a bit gruesome in the dissection scene – remember, at the time scientists didn't stick to what we think of as different disciplines – but I zipped through it. It felt close to being a Shardlake-Cadfael mash-up and I enjoyed the first-person perspective on the hypocrisies of the church.
I ran out of steam during the second one, however, The Academy of Secrets, set when Bruno is 20. I think there are several reasons, some to do with reading it as an e-book and some to do with Bruno as a character. I've come to realise how much I rely on the blurb on the back of a paperback, which of course is missing from an e-book, though I could go to the website and read it there. I take my cues on what to focus on from what is deemed important enough for the paragraph on the back cover. So I'm wondering if the incident I've just read is an aside, a sub-plot, or the main thrust of the novella. And because I don't know how far through that story I am (I can never remember how to set a bookmark so I can get back to where I just was, so I don't want to check the contents list and lose my place) I don't have the cue from page-count either – if I've got two pages left that's very different from having fifteen pages left. Though I haven't read an awful lot about Bruno, he's cropped up now and then from my undergraduate physics days onwards and I'd formed some kind of idea of him that doesn't match this rendering. From these stories, Bruno is being played by a young Rufus Sewell in my head – a handsome philandering youth who is also interested in forbidden scientific writings. I had always thought of him as an austere solitary thinker.
I wonder if part of the disconnect is Bruno's youth, and not having enough story to get my teeth into. Both of which would be solved by reading the first novel, Heresy, which is set in 1583 so would make Bruno 35. The novella and a half (or maybe three-quarters) that I've read so far are well-written, and I imagine fans of CJ Sansom's Shardlake or Hilary Mantel's Thomas Cromwell series would find much to interest them. I may well come back to the novellas, and dip into the first novel, when I've severed Giordano Bruno the fictional character from my idea of Giordano Bruno the figure from the history of science.
If I've helped you find your next book to read, you can always buy me a cuppa…